A-1 Combat Journal
Appendix 5


Skyraider References and Links
(Updated October, 2007)
Each of these books on the Skyraider is a valuable resource in its own way.
---
These books are in my personal library: (Some reviews provided by Maddog Madden, thank you Tom)
1. Berger, Carl (ed.). 1977. The United States Air Force in Southeast Asia: 1961-1973. Office of Air Force History: Washington, D.C.
Hardcover... covers the war in SEA from start to finish... Many photographs, both b&w and color... Many early photos of the Skyraider in action... Traces the development of SAR operations using the Skyraider for protective cover... An excellent overall reference... 381 pages.
2. Birdsall, Steve. 1970. The A-1 Skyraider. Arco Publishing Company: New York.
Soft cover...lots of b&w photos of Skyraiders in action..no color photographs...63 pages.
3. Brace, Ernie. 1988. A Code to Keep. St. Martin's Press: New York.
Hard cover...The story of a pilot's fall from grace as a decorated combat pilot in Korea to a disgraced aviator forced to leace the service, and of his regeneration as a civilian prisoner of war in Vietnam... A must read if you are interested in the perserverance of the human spirit.
4. Drury, Richard S. 1979. My Secret War. Aero Publishers, Inc: Falbrook, CA
Hard cover... Second publishing in 1989...A classic as far as night operations in the Skyraider go...I lent my copy of this book to someone several years ago...It hasn't come back yet...If the person who borrowed the book is reading this, how about returning my book. This book is currently available in paperback from the author at Drury Lane Books, P.O. Box 445, Friday Harbor, WA 98250. Cost is $7.00 which includes shipping/handling in the USA.

5. Ethell, J. and Price A. 1989. One Day In A Long War: May 10, 1972, Air War, North Vietnam. Random House: NewYork.
Hard cover... A great look at the beginning of the Linebacker I bombing campaign over North Vietnam as recounted by no fewer than 106 participants in the action on Day 1 of the campaign...The rescue of Roger Locher is covered in which the Sandys played a key role...217 pages.
6. Field, Kenny Wayne. 2007. The Rescue of Streetcar 304. Naval Institute Press: Annapolis.
Hard cover... The subject book is my narrative about one of the very largest rescues that the Sandy A-1s were involved with during the Vietnam War, and several A-1 pilot readers have told me that they found it very well done---just an outstanding story and well written. George Marrett is one of the Sandy pilots during the rescue and he will vouch for the story, and verify that the book is an excellent read. In the book, I describe all actions of the rescue pilots and my evasion efforts during the forty hours that were required for rescue.

I have already signed copies of the book at both Smithsonian Air & Space Museums in DC and that went so well that I have been invited back for a second signing event in November. And, because of that reception for the book, the Air & Space magazine is doing a book review as I write---the reviewer just called me to tell me so. And, the Naval Aviation News magazine book reviewer (in the Sept/Oct issue) has called it the best book to come out about Vietnam in the last ten years. The book was released in May by the Naval Institute Press...has sold out the first printing already, and second edition copies are shipping this week. Enough Navy pilot bragging....

I believe that my book tells about A-1 pilot heroics more than any other book in print so I'm requesting that you post a description of my book on your Spad website since the book is full of A-1 action. The attachment is provided for that purpose, and, if you want more info, check out my book website at www.kennywaynefields.com .
Gripping Narrative


Reviewer: Naval Institure Press
On 31 May 1968, Lt. Kenny Fields catapulted off USS America in his A-7 for his first combat mission. His target was in Laos, which at the time was "officially" off-limits for U.S. attacks. What the planners did not know was that Fields and his wingman were en route to a massive concentration of AAA gun sites amidst an entire North Vietnamese division. Fields-call sign Streetcar 304-was the first to roll in and destroyed the target with a direct hit. Three AAA guns began to fire, but, following his wingman, he rolled in again. This time many more AAA guns opened up and Fields was shot down. 'The Rescue of Streetcar 304' is Fields exhilarating narrative of the forty hour ordeal that followed, and
what turned out to be one of the largest air rescues of the Vietnam War.

Fields recounts close encounters with Pathet Lao guerillas and nearly being killed time and again by friendly bombs. He describes in riveting detail the radio chatter between participants and the stress effects of coping withfear,no food, the jungle heat, wild animals, and sleep deprivation. Before it was over, the U.S. Air Force had flown 189 sorties to rescue Fields, and in the process four pilots had ejected, seven planes were lost or heavily damaged, and one pilot became a POW for five years.
Fields draws on Air Force radio logs, after-action reports, and extensive interviews with all participants-including the wives at home-to tell the story from all perspectives. The result is a gripping tale of courage and brotherhood on both battlefield and home front.
Kenny Fields was a Bombardier/Navigator in the A-3B for several years and then piloted A-4C and A-7A "attack" jets. During two combat tours to Vietnam he flew 139 combat missions in the A-7 over Laos, Cambodia, South Vietnam, and North Vietnam. He later served as a jet flight instructor. He retired after 22 years, 3,350 flight hours, and 475 carrier landings. He lives in Mooresville, North Carolina.
7. Francillon, René J. 1988. Tonkin Gulf Yacht Club: U.S. Carrier Operations off Vietnam. Naval Institute Press: Annapolis, MD.
Hard cover... This work is the definite answer for anyone doing research on naval aviation during the Vietnam war. Data is provided on all cruises, with all squadrons on board, and includes both aerial victories and losses, both combat and operational... Hard to find... If you find one, don't pass it up regardless of price... loaded with b&w photos...214 pages
8. Heinemann, E. and Rausa, R. 1980. Ed Heinemann: Combat Aircraft Designer. Naval Institute Press: Annapolis, MD.
Hard cover...The story of the life of "the Genius of El Segundo" Ed Heinemann...Heinemann designed 23 combat aircraft including the Douglas AD/A-1 Skyraider...277 pages.
9. Hughes, K. and Dranem W. 1997. Douglas A-1 Skyraider: Volume 13, Warbird Tech Series. Specialty Press: North Branch, MN.
Soft cover... Although it is difficult to take seriously any historical reference book written by authors using pseudonyms, it is a useful work nonetheless... Covers a great deal of the "missing chapter" of the story of the USAF Skyriader, and this is the one thing that saves it... Poor quality b&w photos, similar to Xerox quality... Used one of my personal photos without my permission and attributed it to someone else... In print...100 pages.
10 Jackson, B. R. 1969. Douglas Skyraider. Aero Publishers, Inc: Falbrook, CA.
Soft cover...lots of b&w photos of Skyraiders in action..no color photographs...heavily Navy oriented...Line drawings and color plates in centerfold area...Navy Skyraider squadron histories...144 pages.
11. Johnson, Frederick A. 1994. Douglas A-1 Skyraider: A Photo Chronicle. Shiffer Publishing Ltd.: Atglen, PA.
Soft cover...Both b&w and color photos...More Air Force stuff than the Birdsall or Jackson book...Covers entire Vietnam war period...112 pages.
12. Lavalle, Major A.J.C.(ed.). 1976. Airpower and the 1972 Spring Invasion: USAF Southeast Asia Monograph Series, Volume II, Monograph 3. US Government Printing Office: Washington, D.C.
Soft cover... a great look at the factors involved with the Easter invasion of South Vietnam by forces from the North... Several eyewitness accounts... Includes numerous b&w photos and maps... Includes Air Force order of battle including deployed units... Hard to find, but a definite keeper... 113 pages.
13. Marrett, George J. Cheating Death: Combat Air Rescues in Vietnam and Laos. Washington, D.C.: Smithsonian Institution Press, 2003. xi, 225 pp.
Soft cover...Deadly aerial combat, thrilling rescues, and colorful characters from a pilot and natural storyteller who was there They flew low and slow, at treetop level, at night, in monsoons, and in point-blank range of enemy guns and missiles. They were missions no one else wanted, but the ones all other pilots prayed for when shot down. Flying the World War II­vintage Douglas A-1 Skyraider, a single-engine, propeller-driven relic in a war of "fast-movers," these intrepid Air Force pilots flew one of the most dangerous missions of the war, helping rescue thousands of downed Navy and Air Force pilots.
With a flashback memory and a style all his own, Marrett depicts some of the most compelling aerial combat of any war, capturing the people, places, and battles with a unique blend of warts-and-all clarity, heart-pounding passion, and mordant wit. The thrilling rescue of "Streetcar 304" and William Jones' selfless act of heroism that earned him the Medal of Honor are but two of some of the most searing tableau found in the literature of the Vietnam War.
It reads like the finest combat fiction, crackling with literary adrenaline and evoking a rich, distinctive pathos, but Cheating Death is the real deal: its heroes, cowards, jokers, and casualties all have names and faces readers will find difficult to forget.
About the Author
George J. Marrett flew 188 Skyraider combat missions in Vietnam and more than forty types of military aircraft as a test pilot. He lives in California..
Solid historical work


Reviewer: Darrel Whitcomb (VA, United States) -February 21, 2003
This is an outstanding war narrative from a guy who lived it. A "fast pants" jet test pilot, the author received orders to Southeast Asia to fly old propellor driven A-1s. Reporting to his squadron at Udorn, Thailand, he spent a year in combat flying everything from close air support for indigenous forces in Laos to hair-raising rescue missions for downed aircrews along the ever dangerous Ho Chi Minh Trail.
His narratives of the rescue missions are the core of his story and are absolutely rivetting. Written in the first person narrative style, he takes the readers into the cockpit and helps them to literally feel the "sting" of battle.
I loved this book and highly recommend it to anybody who has any interest in combat rescue. The lessons that he teaches are still applicable today. I put it on a par with "Stuka Pilot" by Hans Rudel.

(Darrell Whitcomb's review of Cheating Death for Amazon.com. Darrell is a noted author in his own right. See The Rescue of Bat 21 below.)
14. Middleton, Drew (intro.). 1978. Air War- Vietnam. Arno Press: New York.
Hard cover... An excellent reference on all aspects of the war in the skies over Southeast Asia... Covers the history of the Rolling Thunder and Linebacker bombing campaigns over North Vietnam as well as air operations over the rest of SEA... Numerous b&w pictures and statistical tables... 361 pages.
15. Mutza, Wayne. The A-1 Skyraider in Vietnam: The Spad's Last War. Atglen, PA: Schiffer, 2003. 216 pp. Extensively illustrated.
Hard cover... Through its remarkable service during the war in Southeast Asia, the Skyraider became legendary. It served with distinction in the hands of U.S. Navy, U.S. Air Force, and South Vietnamese Air Force pilots, who took the war to the enemy, often at low altitude and in the face of devastating antiaircraft fire. And it suffered heavy losses. The Skyraider's versatility and the mettle of its pilots were unmatched. This book takes not only a look at an old airplane, but at the warriors who flew and maintained the machine they called the "Spad." This volume captures the essence of combat in the Spad, and explains the broad range of Spad operations. The text, which is rich with the narratives of Spad pilots and ground crew, is complemented by over 300 original photographs, seventy emblems, and detailed listings of every Skyraider that flew in the war, and the colorful units to which they were assigned. This fascinating volume is a must for aviation enthusiasts, history buffs, and modelers alike..

A Skyraider book by guys who flew her - A defining work, September 28, 2003


Reviewer:Byron E. Hukee (APO, AE Germany)
As a former combat Skyraider pilot, I absolutely recommend Wayne Mutza's book "The A-1 Skyraider in Vietnam: The Spad's Last War" as the definitive book on the history of the Douglas A-1 Skyraider. From the earliest days of the Skyraider following WWII to the current time, Mutza covers it all. His book is richly illustrated with rare photos that are the work of years of research. To top it off, his book is supported with first-hand stories of Skyraider veterans told in their own words.
I knew as soon as I read the stirring introduction that I was in for a treat. As soon as you think you know all about a subject, a book like this comes along. Then you realize that you only thougt you knew it all.
As one who has studied the Skyraider and those who flew her, this is a must read. I only wish I had it to refer to when I built my Skyraider websites
SpadGuy

(This is the review I wrote for Amazon.com where Wayne's book is available)
16. Rahn, B.O., and Rosario Rausa. 1997. Tempting Fate: An Experimental Test Pilot's Story . Specialty Press: North Branch, MN.
Hard cover...Bob Rahn was one of the first Douglas test pilots to wring out the XBT2D, the prototype Skyraider. Read about how he dropped a bomb through his own propellor... Filled with anecdotes about his military flying career and his work as a fighter test pilot...175 pages.
17. Rausa, Rosario. 1982. Skyraider : The Douglas A-1 Flying Dump Truck . The Nautical & Aviation Publishing Company of America: Annapolis, MD.
Hard cover...Virtually all about USN/USMC operations in the Skyraider...Filled with war stories about significant operations in the Spad.

This is an excellant history of the "SPAD", March 16, 1999



Reviewer: CWO4 James W. Doran, USN (RET): AOAN, VA-122, A-1E/H/J, 1963-1964 AO3, VA-52, A-1H/J, 1964-1966 AO2, VA-125, A-1E, 1966-1969
CAPT Rausa spent a lot of time researching this work - and even more time strapped into the seat of the Skyraider. The stories, the history, the memories his work rekindles are all tremendous. Some of my stories are reccounted - along with those of officers and men I served with and served under. I loaned my copy to my Dad and found that his Boss was in it! This book is a must for any military aviation afficianado.
18. Smith, Roger G. 1998. Guppy Pilot. Western Oregon Web Press:Corvallis, OR.
Soft cover (8.5 x 11)... A new book written by a former AD-5W "Guppy" pilot... I just received the book so will post the review when I have finished it... 236 pages.
19. Sullivan, Jim. 1983. AD Skyraider in Action. Squadron/Signal Publications: Carrollton, TX.
Soft cover...B&w photos and color plates in center...Very nice line diagrams showing small details...49 pages.
20. Turley, Gerald H. 1985. The Easter Offensive. Presidio Press: Novato, CA.
Hard cover...An excellent account of the communist offensive in Mar-Apr 1972...Truly an eye opening, reality check for Air Force personnel like me who had no real appreciation of the magnitude of the communist attacking force...Reference made to Bat 21 SAR and the impact it had on the ground situation...305 pages.
21. Whitcomb, Darrel D. 1998. The Rescue of Bat 21. Naval Institute Press: Annapolis, MD.
Hard cover... See review below. I found this book to be chillingly accurate. A heroic rescue by some true heros of the Vietnam era. Proud to say I served in the 1st SOS during this time period.

The Factual Story of a Daring Rescue During the Easter Invasion of 1972, Though not without cost....


Reviewer: Col James E. Roper, USAF, Retired Colorado Springs, Colorado
It's about time someone set the record straight. Darrel D. Whitcomb does it concisely in this powerful tragedy from the American experience in Vietnam. An introduction by Col Harry G. Summers Jr. advises that the book offers lessons that we ignore at our peril.
Bat 21B is the call sign of an EB-66 navigator, Iceal "Gene" Hambleton, who is slammed by an SA-2 missile just south of the demilitarized zone (DMZ) in 1972. The plot thickens when he must parachute into the middle of a vast North Vietnamese Army (NVA) invasion of the south. Search and rescue (SAR) missions launch into an area where the NVA has brought sufficient antiaircraft weaponry to contest American air superiority. Eleven brave men die, and two more survivors enter the problem. The author details the falls of Mike 81, Blueghost 39, Nail 38, Blueghost 28, Jolly Green 67, and Covey 282. A previous book by William C. Anderson and a movie starring Gene Hackman focused on the 12-day evasion ordeal of Hambleton. Whitcomb's effort brings the full story home with the stark power of what actually happened.
Reading The Rescue of Bat 21 is like standing near a thundering freight train. The story is powerful, moves quickly, and is vividly told. Thorough research and the author's experience in the forward air control mission facilitate smooth storytelling. As opposed to oversimplified tales in the past, this account gives detailed documentation. The exact chain of events comes to life. The focus is not on survival stories but on the support and decision systems that drive the rescue. This way, the author aims the spotlight at some larger questions.
What is the price of one man's life? A prevailing sentiment held that rescue of a downed brother was the only mission in that conflict that was worth any risk. "A Long, Bitter War" is an apt chapter title for an insight into this inscrutable war without a clear strategy. In the end, Whitcomb holds class on critical aspects of executing joint and coalition operations. He raises issues that go to the heart of Air Force identity.
The Rescue of Bat 21 could serve as a textbook for leaders and planners. It offers all of us a fast but wrenching story of tragedy and heroism from a controversial period in our history.
These books I do not have, but they do exist.
1. Dorr, Robert F. 1989. Douglas A-1 Skyraider, Osprey Publishing Ltd., 59 Grosvenor Street, London W1X9DA.
Soft cover...Covers the entire history of the Skyraider with lots of B/W (some color) photos. Contains a lot of data on service in Vietnam...200 pages.
2. Dorr, Robert F. n.d. Skyraider: Illustrated History of the Vietnam War, No. 13. Bantam Books: New York, New York.
Soft cover...Good basic history of the Skyraider in use by the U.S. Navy and Air Force during the Vietnam War. Profusely illustrated with B/W and color photos...160 pages.
3. Profile Publications. "The Douglas Skyraider", Printed by Hills & Lacy Ltd., London and Watford.
Soft cover...a 10 page pamphlet with many photos and a brief history of the aircraft.
These are excellent on-line references from the Naval Historical Center's website
Grossnik, Roy A. United States Naval Aviation 1910-1995. Naval Historical Center, Department of the Navy, Washington, D.C.
Not only Skyraider material, but information about all things Navy. If it flew or floated and was operated by the Navy, you will find it here. Simply an outstanding reference!
Grossnik, Roy A. Dictionary of American Naval Aviation Squadrons Volume 1 The History of VA, VAH, VAK, VAL, VAP and VFA Squadrons . Naval Historical Center, Department of the Navy, Washington, D.C.
Perhaps the definitive volume regarding Naval aviation squadrons and their histories. To attempt to track the lineage of Naval aviation squadrons can be nothing but frustrating... especially for an Air Force guy! This reference solves that problem.

These two "books" were published on CD-ROM and are made available from the Naval Historical Center's website in Adobe's "Portable Document Format" (.pdf) which preserves formatting and greatly compresses their size for quicker downloading. You will need the Acrobat Reader, downloadable free from Adobe, to view the book's .pdf files. NOTE: You must use Adobe's Acrobat Reader 3.01 or greater for successful viewing of the book's .pdf files.

---
Some Skyraider Related Links:
Read about Major Bernie Fisher and Lieutenant Colonel William A. Jones III who were both awarded the Medal of Honor for Skyraider missions in SEA.
Able Dogs dot com - The USN Skyraider site
VNAF A-1 Skyraiders - Images and serial numbers
---
Other SEA Related Links:
4th Allied POW Wing - Vietnam POWs
12th Tac Fighter Wing Association
PJs in Vietnam UPDATED LINK
---
---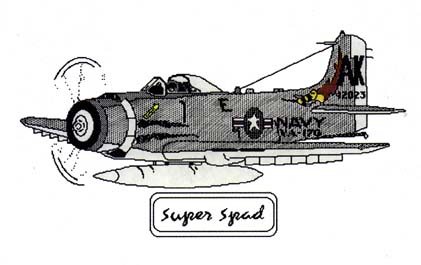 This image was created by my son Jordan on our new 128k Macintosh in 1985 using MacPaint 1.0. It was colorized prior to being scanned.